The Mindfluence® Revolution Webinar
The "Revolutionary" Webinar that Will Rock Your World…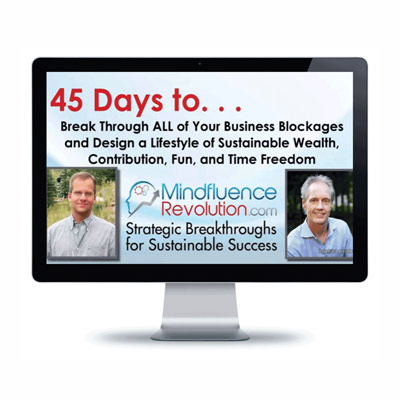 Obtain a Breakthrough in Your Business and Design a Lifestyle of Sustainable Wealth, Contribution, Fun, and Time Freedom in Just 45 Days. . .Guaranteed!
Can a single 45-minute webinar really make a difference? This one can! Discover how much you can learn in one powerful online session.
Uncover the unproductive habit patterns and mindsets that are blocking your success—and learn the secrets to blasting through them.
Discover how to optimize your human assets and create ultimate time freedom and abundance through entrepreneurial leverage.
Learn the fastest ways to break through your business and personal blockages with a Liberation Blueprint (RELEASING), Action Plan (OBTAINING) and a Sustainability Plan (MAINTAINING).